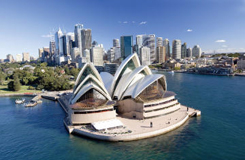 I love Sydney.
I got here by accident, but it is a happy accident.
We met some ex-pat brits today in the Royal Botanical Gardens. They gave us some great suggestions for further exploring with kids. Then they told us how surprised they were that Australia wasn't on our itinerary in the first place.
So am I. If we ever make it to this part of the world again - it certainly will be on the itinerary.
In the meantime, we do have a date we will be leaving. After 1.5 hours on the phone with Qantas yesterday, we are ticketed on a flight for Tuesday. And the website says that flights will be operating to New Zealand starting tomorrow!
So, if everything goes on track from here, we will be arriving in Christchurch on Wednesday - according to our original plan. Hopefully, our last piece of luggage will find us before then.
Now -- off to find out the best way for my kids to meet a kangaroo....